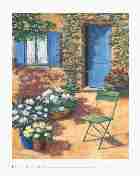 Blue Doorway - Jared Burns 8x10 (2-3 week delivery)
Code: PI-BRN07M
PPaper Size: 8x10
Image Size: 7.5x9.5
SPECIAL ORDER: allow extra time for delivery; subject to availability.

Price: $6.95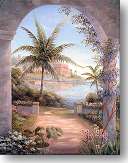 "Tropical Terrace I" by Vivian Flasch
Code: TROPICALTERRACE1
Paper Size: 22x28
Reminiscent of a Carribean or Mediterannean scene, this lithograph shows a terrace overlooking an inlet. Palm trees and flower gardens are in the foreground.
Price: $10.95



"Formal Garden II" - Flasch still life print
Code: FORMALGARD2
Paper Size: 22x28

This peaceful garden scene shows an array of flowers, with a cobblestone walkway leading to steps. One of two companion images by artist Vivian Flasch.
Price: $10.95


"The Breezeway" - Vivian Flasch print
Code: TBVF
Paper Size: 22x28
Cool, stone-like earth tones make this and its companion image The Patio an ideal grouping for most any decor. A large potted plant sits on an arched breezeway overlooking a walled garden. 22x28 inches overall
Price: $10.95
.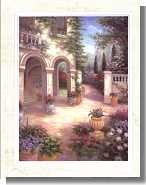 "Tuscan Courtyard I" - Vivian Flasch
Code: TUSCAN1
Paper Size: 22x28
One of a pair, this beautiful Mediterranean courtyard scene shows many potted plants and flowers. The faux matte makes this a lovely lithograph suitable for any room of the home.
Price: $10.95


Garden Path Viewing the Harbor - John Zaccheo
Code: ZA0513
A winding path leads through a gateway and down towards the village below. The harbor n the background is prominent.
Price: $10.95